Experience Through Outdoor Testing
Looking for the best outdoor box? Our outdoor boxes have been tested over the years and continuously improved in all aspects, both electrical and mechanical. For example, the case we have chosen is an original PELI Case. This manufacturer of cases makes the very strongest cases in the world with the highest certification and thus offer the best protection to our lithium batteries.
To make sure our lithium batteries keep working under all conditions, we have tested six outdoor boxes 365 days a year continuously for 3 years! These Lithium batteries power rental boats on one of the largest carp paywaters in the Netherlands. Through this unique and highly representative test situation where the battery but also plugs and other components of the outdoor box must perform to the maximum in heat and extreme cold but also humid conditions, we have a large amount of data. With this data and feedback from our customers, we have been able to make our outdoor boxes even better. They are so good that we dare to say with no doubt that our outdoor boxes are the best on the market!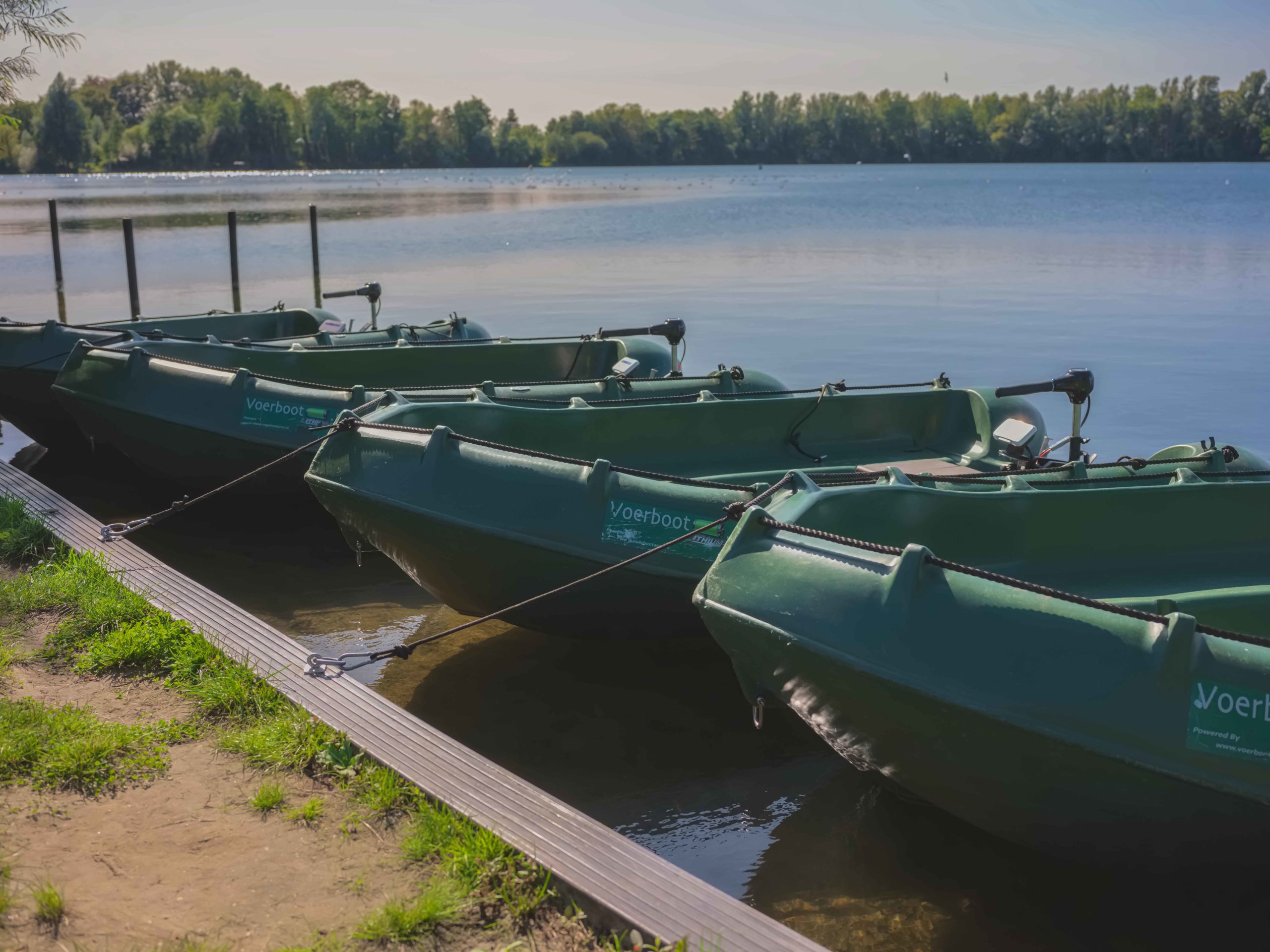 Rental boats CarpTwenty 2019
Outdoor Box in Detail...
What battery do we use in our outdoor box is a frequently asked question and it is often assumed that we build an existing battery from a supplier into our cases. This is a big misunderstanding, at outdoorcells we manufacture the lithium battery modules in our own production unit. This way we have full control, from selecting the best lithium cells to programming the battery management system. As a result, outdoor box has a longer life and is safer.

While manufacturing the outdoor box, we use the highest quality components such as original APP plugs, waterproof IP68 switch and certified cabling with proper specifications for the application. Outdoor boxes are most commonly used for electric outboard motors.

A regular battery without a plug is often less easy to connect and does not perform as well due to the lack of a solid plug. Outdoorbox is always equipped with a Quik Connector which makes connecting a whisker motor super easy.

There are many outdoor cases on the market and we have tested almost all of them. The Peli Case outdoorbox is by far the best choice and offers the best protection against water and dirt as well as bumps and drops! If there is a defect in your outdoorcells outdoorbox case, we will always replace it free of charge!
Service for breakdowns of your outdoorcells outdoorbox battery, under normal use, is always free of charge and super fast!
Why an Outdoorcells Outdoorbox?
1. Innovation
Innovating, developing and manufacturing high quality products is our passion, partly because of this our outdoor box has not only become better but also smaller and lighter! Outdoorcells produces the smallest and at the same time the most powerful outdoor box which makes our batteries last longer on a full charge and also easier to transport. In addition, every outdoor box within its series is the same size, a 100AH is the same size as a 35AH, making the batteries stackable and easy to store. In addition, the battery takes up less space in your boat and cannot leak during transport. And best of all, you'll never have to lug around heavy lead acid batteries again!
2. Service you'll be amazed at
Outdoorcells also assists in wiring your devices and/or mounting plugs. Not sure if your electric outboard motor is suitable for outdoorcells or do you want to connect another type of device? Please contact us. Is your trolling motor defective or do you doubt the condition of your trolling motor? In this case, always contact us before using outdoorbox.
3. Guarantee for many years of electric boating
On an Outdoor Box from outdoorcells, you will receive a standard 2 Year legal warranty and limited extended warranty on the Lithium battery module. On the Peli Case there is a limited lifetime warranty. This means that if your battery is defective it will always be repaired or replaced within the warranty period. In our algemene voorwaarden  there are some exceptions included as far as warranty is concerned but in most cases your outdoor box will be repaired and returned within 48 hours so you can get back on the water quickly!